Kelly Grant, N4645W
Kelly Grant was flying airplanes before he could legally drive a car. Owning a Commander was a dream that started in the late '70's attending to one based at the airport where he worked in college.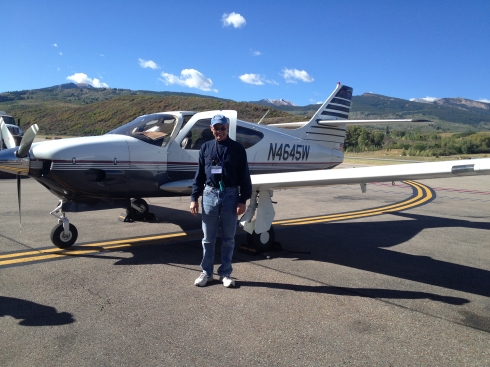 Fast forward to the summer of 2006 when Grant commenced searching for the "right Commander". A natural curiosity and mechanical ability gleaned from growing up in farming and taking over the family automobile dealership came in handy searching for a project to call his own.
His wife, Anne consented to purchasing N4645W, a 112-TCA in September of 2006. It wasn't the first Commander he found during his search. He discovered it tracing sequential serial numbers and cold-calling owners. Nor was it front-line ready. But he was excited to take a Commander grounded for almost a decade and make it his own.
Kelly first flew it in Santa Monica. The test flight after engine overhaul over the LA basin was his first TC experience. The next day it was eastbound to it's new home in Bolivar, Missouri with limited working avionics. Anne met the plane when he arrived at home, stuck her head inside, & suggested he do some work.
Cosmetically, the exterior was well preserved, but the interior badly deteriorated. If it was rubber, plastic, or electronic, it got replaced during the subsequent 4-year restoration.
Under the supervision of a host of A & P's, the airplane panel was removed, factory installed oxygen, 8-track, & DME were jettisoned, seats, interior panels, wiring, avionics, & electrical systems upgraded, and numerous STC's installed.
Learning to fly instruments in the late 70's, Grant retained the 6-pack but installed an Avidyne EX500 multifunction display for WSI weather and graphic flight plan information. A Garmin 430W coupled to the refurbished Century III autopilot created a fully functional IFR platform. A P/S Engineering audio panel, MaxDim controlled Fiberlites, a 406 ELT, revised ComDat antennas, and a refurbished KX-170B with glideslope were installed in a newly designed panel.
Advantage Avionics in Chino, CA worked with Kelly, creating multiple plastic overlays during the panel design process. Lower sub-panel overlays were created by Aircraft Engravers in Connecticut. New primary engine instrumentation was provided by EI.
Leather seating and armrests, wool-covered new interior panels, and carpeting completed the interior replicating a style used in later production Commanders. Kelly's wife Anne finally got her first ride 4-years into ownership!
"If it weren't for the Commander Owners Group, I would have never pursued my dream of owning a Commander. The website gave me information but the people I've met both online and at the fly-ins gave me the confidence to get it done." Kelly said. "A particular individual pushed me hard after the 2007 fly-in at the Cape. When I hit the wall trying to figure something out I always ask myself -- What would Sven do?".
A 2013 deer strike on landing roll-out at his home airport lead to an engine teardown, new motor mount, lower cowling, and Hartzell 3-blade prop. Once again, Kelly was back in his element improving on his earlier refurbishments.
N4645W has made a home for itself "chasing cars" in the midwest on a regular basis for Kelly's business. Longer trips to Detroit, Phoenix, Las Vegas, Orlando, Melbourne, New Orleans, Raleigh, Gulfport and Colorado are a lot more comfortable than the family Skyhawk he still maintains. The highlight of his Commander flying was the COG Colorado Mountain flying course just completed September 15, 2017.
More recent upgrades to 45W include RCM Normalizing's baggage door STC, An Avidyne IFD-440, and cowling heat improvements available through Aerodyme. On the "scheduled list" are the ADS-B upgrade, new gear hardware, and revisions to primary engine & flight instrumentation not available when upgrade decisions were finalized at AirVenture 2008.
"The Commander airplane is perfect for my cross-country missions", says Grant. "It's comfortable, eye-catching, and everyone wants to look at the plane. In my previous 30-years of flying, they never looked at the Skyhawk like that." he added.